Tesco昔日在英國各鄉市都有賣場,如今下定決心大徹退。
Tesco: why did it all go so wrong?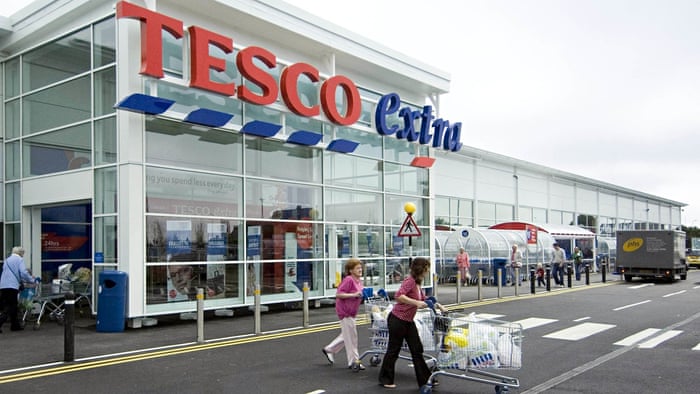 Then overconfidence led to overreach. Seeing limits to its UK expansion, Tesco began spreading overseas. But as its initially confident adventure in the US foundered, so its ambitions began to recede in China and Japan too. Tesco had been the company that could do no wrong; now investors began to question whether it knew what it was doing.
The supermarket increasingly found itself in a no man's land between the deep cost-cutters such as Aldi and Lidl and the quality brands such as Waitrose, leaving it with a weaker, less distinctive offer, while also fighting off its near rivals Sainsbury, Asda and Morrisons.
But it was worse than that. Tesco invested heavily in large edge-of-town and out-of-town stores, which were hit by the rise of internet shopping. The supermarket tried to respond by making a trip to Tesco Extra a family outing. Yoga classes, child-friendly restaurants and independent-style coffee chains were brought in to make the old uncle look groovy. But now, instead of making the weather, in business terms it was chasing patches of sun that kept receding.
The public was falling out of love with the weekly mega-shop and there was a growing awareness of the impact of big supermarkets on local economies. Unlike smaller independent and locally owned stores, supermarkets suck more spending out of an area and have a negative overall effect on jobs in the retail sector. "Clone towns" dominated by chain stores created a backlash. This is reflected both in the explosion of interest in community food-growing initiatives, craft bakers and brewers, and in the rise of so-called "transition towns" that aim to build sustainable communities.
Tesco, though wounded, remains by far the UK's biggest retailer. But if, as a result of its travails, it is reduced in size, the market opens up to some degree and we learn the lessons of its imperial overreach, that would be good for Britain. A resilient economy needs diversity. Too much power in the hands of too few retailers is bad for everyone – farmers, producers, consumers and the businesses themselves.
When big goes bad, it hurts far more people. That's something we learned from the banking crisis. Mistakes get magnified and the blinkered, macho pursuit of growth and profits above all else distorts the business and the economy, and can end up cannibalising the very ecosystem on which it depends. Instead of looking to return the Tesco swagger, Lewis should reflect on how empires often make their worst mistakes as they scrabble to avoid collapse. The worst could be yet to come.
中國除官方高層。都不知道什麼滅頂計畫。
【壹週刊】滅頂延燒對岸 中國啟動清查康師傅
頂新黑心油的嚴重程度,已讓大陸官方起戒心。位於天津市的頂新康師傅總部,近來連續遭到天津濱海新區食品藥品監管局檢查,甚至對產品原料進行取樣調查。本刊記者上週實地採訪,都感受到一股肅殺之氣。隨時可能引爆康師傅新的危機。為拯救大陸市場,頂新緊急收回台灣味全使用康師傅商標權,企圖切割。另方面,台灣高檢署統合13路地檢署查緝,再獲重大進展。檢方在搜索魏家帝寶豪宅時,查扣魏應充長子魏志明的2本筆記本,內容詳載最近如何密集跟著父親處理黑心油品問題,顯示魏應充早就知情,鐵證如山。
Tesco store in Cambridge 'on verge of receiving 'asbo' from City Council'
Councillors are deliberating over whether to impose a community protection notice on the supermarket after it failed to clear litter when repeatedly asked
NATASHA CULZAC
Sunday 26 October 2014
A Tesco store in Cambridge is close to being slapped with a community protection notice (CPN) – formerly an Asbo – after it reportedly riled the council for not clearing litter in a fence.
The superstore on Newmarket Road was accused by a councillor of continually ignoring requests to clear up the rubbish that had accrued on its grounds.
According to Cambridge News
, in a council meeting this week Peter Roberts, Cambridge City Council's Executive Councillor for Waste, Environment & Public Health, told attendees: "We are potentially pursuing a community protection notice against Tesco.
"Tesco in Abbey has had a new fence and it's basically just rammed with rubbish. We've asked several times they clean their ground as part of the agreement they have with us as the city authority and they continually, despite their claims otherwise, carry on just leaving it."
Tesco has been contacted by The Independent for comment.
Community protection notices are a re-branding of the previous anti-social behaviour orders (abos), giving local authorities, police and social landlords the power to issue orders to curb behaviour that negatively affects the community.
Cllr George Owers added in the meeting: "Tesco, to me, are the only organisation or business in Cambridge who persistently allow this to happen on their grounds and never clean it up.
"I hope the expanded enforcement team will look at using their increased resources to talk more to businesses, all kinds of businesses where we have similar problems, and if they persistently ignore us, use this power more widely than just Tesco."
A Tesco spokesman told the newspaper: "We are working closely with the city council to tidy up the site.
"Contractors will be visiting the site shortly to undertake the necessary works and we will continue to monitor the situation on an ongoing basis."