發稿時間:2014/11/28 11:37
最新更新:2014/11/28 11:37
(中央社記者楊淑閔台北28日電)油價跌,但速食店龍頭麥當勞今天反而調漲部份商品;消費者文教基金會呼籲民眾,速食商品可替代,評估後覺得調漲不合理,可以拒絕消費。

麥當勞今天起將調漲部分產品價格,新台幣79元起超值全餐將漲10元,麥香魚、麥香雞、雙層牛肉吉事堡套餐也漲10元。

但也有部分產品降價2到6元,調降金額最大的品項為單點「四塊麥克鷄塊」及「六塊麥克鷄塊」,分別調降6元,降幅10.9%。

消基會副董事長游開雄表示,消基會基本上尊重市場機制運作,速食商品不是民生大宗物資,業者調整售價,可能有背後因素。

他強調,速食店商品不是不可替代商品,消費者最大權力的行使是可以做選擇,認為價格不合理,可以拒絕消費。1031128
The terrifying McDonald's Happy Meal mascot 家長:嚇到孩子
2014.5.21
The terrifying new McDonald's mascot – and other creepy corporate monsters
The fast-food container with human teeth has not been well received – but he's not the first beast to scare people off a brand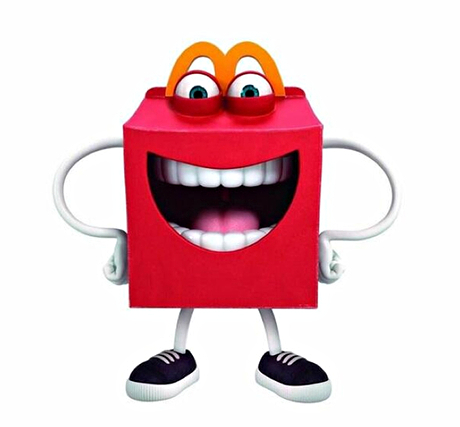 Meet Happy, the new
McDonald's
mascot. Customers in the US got their first glimpse of him
in a tweet on Monday night
. And unfortunately Happy did not make people happy. He made them scared. Or at least that was the majority verdict on Twitter:
The terrifying McDonald's Happy Meal mascot is a hideous demon creature
麥當勞在美推「Happy」家長:嚇到孩子
麥當勞快樂兒童餐新吉祥物外盒「Happy」,讓不少家長投訴:「這嚇到我的孩子了」。(圖取自麥當勞網站)
2014-05-21 08:48 〔本報訊〕全球速食業龍頭麥當勞(McDonald)近期在美國推出新的快樂兒童餐吉祥物「Happy」,原期望可帶給小朋友全新的感受,沒想到卻是負評如潮,家長紛紛投訴:「這嚇到我的孩子了」、「Happy讓孩子們一點都不Happy」。
多 家外國媒體報導,作為裝著快樂兒童餐健康又美味餐點的外盒,「Happy」擁有一雙「可看透你靈魂的大眼」、「像是黑洞的大嘴」、「細長又彎曲的雙手」。 麥當勞官方說法是,「Happy」將帶給小朋友更多的歡樂和驚喜,快樂兒童餐內容也越來越健康,像是低脂優格和更多的蔬菜。
家長可不這麼認為,他們覺得「Happy」嚇到他們的孩子了:「也許麥當勞的用意是把孩子們嚇到去吃盒子內的蔬菜吧。」
「Happy」誕生已有5年的時間,於2009年時率先在法國見客,接下來持續往拉丁美洲和歐洲擴展,今年則是在美國全面換用,讓更多小朋友來為「Happy」評分。
2011.12.
麥
當勞(McDonald's Corp.) 11月份全球同店銷售額增長7.4%﹐增幅高於預期﹐因該公司擴大了在歐洲市場的中高端產品供應﹐同時在美國市場McCafe產品線中加入Peppermint Mocha品牌。
接受Consensus Metrix調查的分析師此前預計﹐麥當勞開業時間不短於13個月的餐廳11月份總銷售額將增長4.9%。
11月份美國市場同店銷售額增長6.5%﹐增幅高於分析師的預測值4.28%。
當月歐洲市場同店銷售額增長6.5%﹐增幅高於分析師的預測值4.24%﹐主要受英國、法國、俄羅斯和德國市場的良好表現推動。
當月亞太、中東和非洲地區同店銷售額增長8.1%﹐分析師此前預計增幅為5.63%。
2013 日本店首次大虧,主因為中國肉源衛生等問題。
日本麥當勞的經營新生
BY SHOJI NOMURA ASAHI SHIMBUN WEEKLY AERA
2011/02/26


Eikoh Harada, president of McDonald's Holdings Co. (Japan) (Asahi Shimbun file photo)
The bosses at McDonald's Holdings Co. (Japan) were savoring record profit reports with their McFlurries and Egg McMuffins this month, with an increase in operating profits in 2010 of 16.1 percent.
It is just the latest installment in a fast-food fairy tale that has seen a brand that seemed to be in terminal decline rebuild itself into one of the success stories of the Japanese food sector.
McDonald's reported 542.7 billion yen ($6.62 billion) in sales from all of its restaurants in Japan for the year ended December, in results announced earlier this month.
Its operating profit increased 16.1 percent from 2009 to 28.1 billion yen. Pretax profits rose 16.8 percent to 27.1 billion yen, the highest since the company went public in 2001.
Only seven years ago, the Japanese Ronald McDonald was having difficulty keeping his smile up. An aggressive expansion strategy seriously misfired, customers were leaving in droves and same-store sales had been falling for seven consecutive years.
In February 2004, Eikoh Harada, a former president of Apple Computer Japan, was headhunted to become vice chairman and CEO of the company.
Since then, progress has been steady and, while McDonald's 100-yen burgers have for some become a symbol of Japan's deflationary slump, Harada insists success has not been built solely on price cutting.
"We haven't dropped prices for seven years," Harada says. "On the contrary, we've raised them five times."
He says improving margins is the only way to achieve growth in today's market. Customers are attracted into shops with low-priced items, but McDonald's boosts its profits by tickling their taste buds with higher priced items once they are inside.
In October 2005, half a year after the 100-yen Mac menu was introduced, McDonald's launched the Ebi Filet-O shrimp burger.
Its price was set at 270 yen, among its top-priced items at the time, but the Filet-O burger proved a hit with women and young people. McDonald's has since added a variety of more expensive burgers, including its Quarter Pounder range (350-360 yen).
The Big America 2 burger series, launched in January, also comes at a premium, at around 420 yen. However, partly due to the popularity of the series, same-store sales were up 2.2 percent in January compared with the previous year. Customer numbers increased by a healthy 2.4 percent.
In a sense, the economics of McDonald's business are simple. It serves roughly 1.5 billion customers in Japan per year. If the company receives one yen extra from each customer, its sales figures go up by 1.5 billion yen.
But the balancing act of ensuring that the restaurant does not turn off customers and therefore put that arithmetic into reverse is a tricky one.
Harada has introduced "demand-based pricing," a price-setting method aimed at maximizing demand. Customer purchasing patterns are pawed over to determine optimal pricing.
Hidetoshi Kouno, head of Kouno Keiei Consulting, says: "McDonalds' price setting is no longer influenced by that of competitors in the fast food industry, such as Lotteria and Mos Burger."
Kouno believes that prices are, instead, strongly influenced by those of menu items at family restaurants or bento box meals in convenience stores.
McDonald's Idaho Burger set, at 680 yen with a coupon discount, is a deluxe item intended to compete with family restaurant meals. Its Ebi Filet-O set, at 450 yen after discount, is a basic item positioned to go up against convenience store fare.
"Once Harada took over, profitability became the company's number one objective," says Yoshiyuki Nishino, who operates the corporate financial analysis site Ullet. "Existing contracts were reassessed, and a complicated management setup was streamlined to increase profits. It might sound simple, but it was no mean feat."
Nishino notes that sales at McDonald's directly managed outlets rose in the early years of Harada's tenure, while franchise revenue has been increasing in recent years.
"The company's aim seems to be to ensure stable profits from royalty income (from franchises). First, they instill an attitude through campaigns at directly managed stores, and later give franchises more decision-making power in implementing them," he says.
Motoshige Ito, an economics professor at the University of Tokyo, says the secret of McDonald's success is "holding on to its distinctive qualities, and gaining a firm grasp of their customers' needs."
McDonald's has been testing a delivery service at its Yoga Inter store in Tokyo's Setagaya Ward since December 2010, which it says has been popular with mothers caring for children who find it difficult to go to restaurants.
According to Harada's book "Hamubaga no Kyokun" (Hamburger lessons), his part-time jobs as a student included driving dump trucks, fluffing futons, and working as head clerk at a Japanese-style inn.
After graduating from university, he worked exclusively in the computer industry, where he gained experience in sales, finance and marketing. He made his reputation establishing Apple's brand in Japan.
Since arriving at McDonald's he has shown a ruthless streak that has sometimes made him enemies. He immediately scrapped periodic pay raises for managers after taking up his position and, in 2006, abolished the company's retirement system and introduced 24-hour outlets.
His company has been taken to court for failing to pay overtime wages to store managers working long hours, and many McDonald's Japan employees have been alienated by Harada's strong emphasis on performance-based pay.
In 2010, Harada shut down 433 restaurants, 10 percent of McDonald's total. Many were restaurants in shopping mall food courts and downtown areas. Instead, the company is concentrating its energies on outlets in suburban areas.
It will open 120 stores this year, with 100 of them offering drive-through services.
Kono says the switch demonstrates shopping malls' declining pulling power.
"Even McDonald's is finding it extremely difficult to attract consumers, as they are becoming more frugal with each year," Kono says. "Consolidating drive-through services will end its dependency on shopping malls and that is consistent with its objective of enhancing its takeout options."
McDonald's has spent 12 billion yen on its store closures, almost equivalent to its net profit for the year through December 2009.
Harada says: "We lost customers. We lost sales in the short term. But despite that, we carried out painful reform for the sake of further growth."